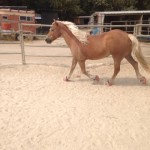 It's been radio silence around here for a little bit. Work has been crazy, and I had a few pony plans in the works that I didn't want to jinx.
The TL;DR version: Confetti and I went north to Cuneo Creek, rode our first 50, and completed in fine spirits.
This really was a "it takes a village" sort of ride. It took three different trailers and four trailer rides (one of which I wasn't even there for – my boyfriend is thankfully very supportive!) to get Confetti there and back. I could not have even gotten to the ride were it not for the kindness of a semi-local rider who was willing to haul us up and back, someone I'd met only in passing prior to this ride.
Horse Preparation
I didn't ride very much the week prior to hauling up. It's not that I wasn't planning to ride, but between ride prep and work I simply ran out of time to ride more than a few minutes once or twice. Taper: unintentionally accomplished.

Confetti got her fall ride clip the weekend before we left. It's been hot here, she's got a lot of hair, and I know she can be tough to pulse down at checks. I took off more from her neck than I have in years past and feel absolutely no guilt about it. She'll grow plenty back by the time it gets even remotely cold.