It's finally starting to feel like fall around here. The sun is setting when there are other people at the barn and I haven't even gotten on the pony yet, I'm contemplating pulling out thermal layers and fleece leggings, and my winter barn boots may soon make an appearance. Yes: I am a California weather wimp who thinks 50 degrees is cold.
But along with changing temperatures comes the threat of rain. Big deal, right? It is for us. The barn is partially bordered by a river. During most of the year, we cross the river to get to the park.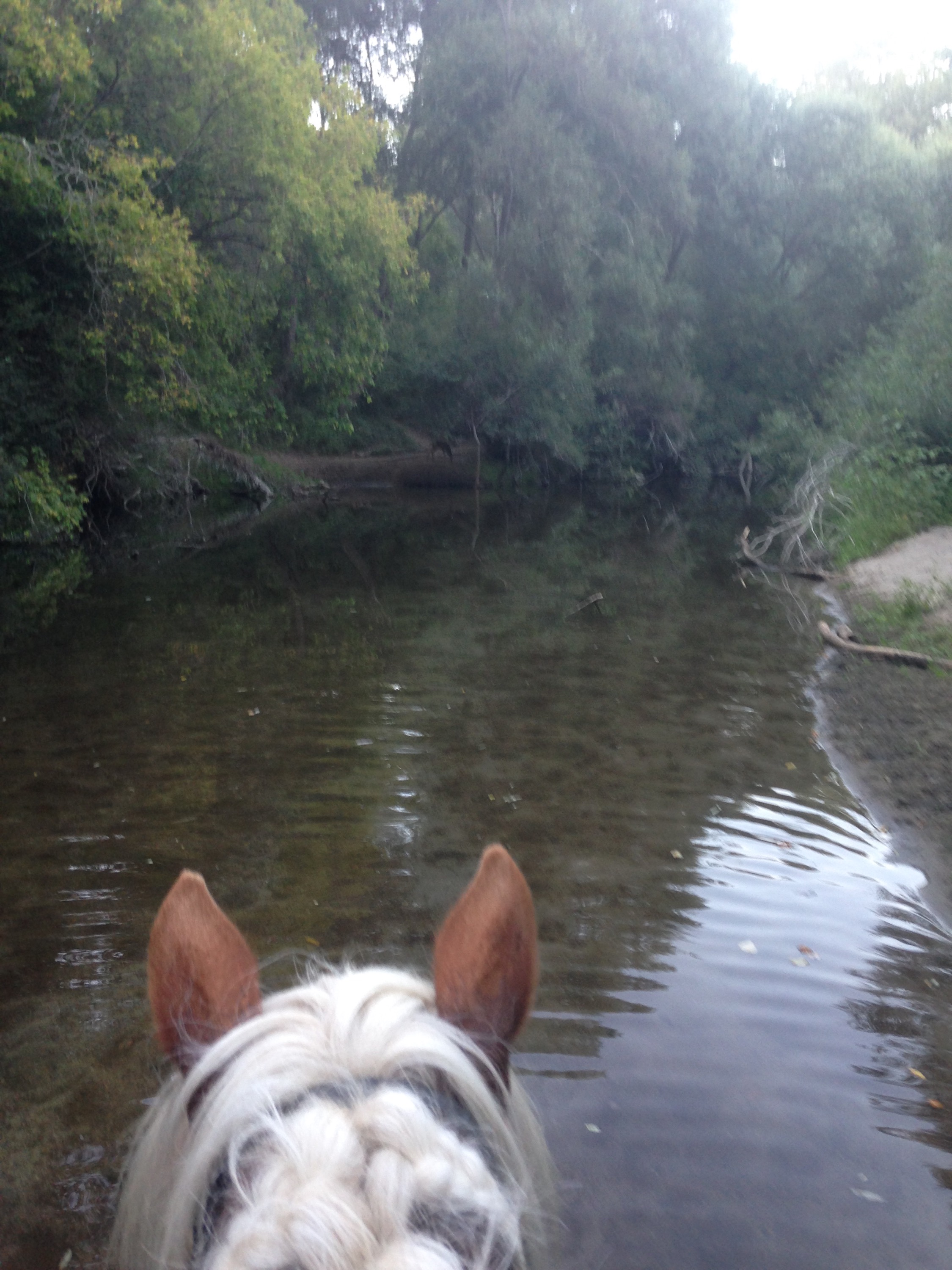 During the rainy season, the dam downstream is put up, and the river is no longer crossable. I gripe and grumble every year about how awful it is that for a few months a year we no longer have super-easy trail access. Really spoiled: check. It does come at a price, and this year things may get interesting. On occasion, the barn floods, and my mare happens to be toward the back. Weather forecasters are calling for serious rain and comparing it to storms that hit back in 1997: the last time things actually got really flooded. It doesn't stay flooded for long, from what I've heard, but it does flood for long enough that it involves relocating horses, though potentially just a short distance from the barn.
Plans I already have in place:
When we start getting Real Rain (i.e. not just occasional sprinkles for an afternoon), my nice new expensive leather saddle will be relocating to my house. Just about everything else at the barn is either fine getting wet (biothane, beta, hoof boots), high enough I'm not concerned (saddlepads on top racks, Thorowgood synthetic dressage saddle – plus if they get wet, they'll dry), or in plastic containers.
I have two halters/lead ropes that live outside Fetti's stall in case of emergency.
A generous friend has offered to keep Fetti at her property. Fetti has lived there in a herd before. Ideally, they will trailer her over when they pick up their horses from the barn. If not, I know I can walk her there.
I would also be comfortable tying Fetti to a trailer in a parking lot overnight with a bag of hay and a bucket of water: we've done it for endurance. Parking lots aren't ideal, but I trust she'll tie, and that is an option that would be available.
I have a FloodWatch app on my phone and know approximately when to get concerned.
Things I need to get done:
I will have a laminated sign made and stapled to the outside of her stall with her name, my name, and my contact information. (If we were dealing with fires and/or potentially non-barn folks evacuating the horses to unknown locations, I would add this to a halter tag and attach to both halters.)
Confetti has generally good ground manners, loads respectably well, stands tied, and generally keeps her brain. She handles traffic well with the exception of giant trucks, and even those she will tolerate, just less well. I am aware this all makes her a much easier horse to plan for in emergencies than many.
Complicating factors:
The last time we pondered very minor flooding was Christmas Eve a few years back, if I recall correctly. It was reasonably late in the day. I was either off work for the day, or had already made it back from work. If it looks like it will flood and I am at home, my house is local enough that I will almost certainly be able to get to the barn. If I am at work… well, if it's the middle of the day, I'll probably be relying on the kindness of others; if it's in the evening, I'll be trying to leave early and get there. If we really have that much rain, the roads on my hour-long commute may be impacted, and it may be difficult for me to get home/to the barn.
I'm hoping for rain in reasonably-sized doses, and crossing my fingers that we avoid flooding this year.
What emergency preparedness steps have you taken with your horses?