TRM 25 Questions Blog Hop
Yay, a blog hop from That Red Mare!
1. Mares or Geldings? Why?
Mares. I love the attitude and the partnership and the challenge. I have a thing for difficult mares.
2. Green-broke or Fully Broke?
At this point in my life, fully broke. I know I don't know enough to do really well by a green-broke horse. Probably green-broke in the future with an appropriate support system.
3. Would you own a "hotter" breed (ie. Arabian, Trakhener, etc).
Absolutely!  I'm aiming to continue in endurance, which means at some point I'm likely to end up with an Arabian.  I've met some really mellow Arabians, though, so I'm not particularly concerned about the breed-typing.  I also own a fairly hot Haflinger (as far as Haflingers go) who we've negotiated into slightly-less-hot, but that's not exactly breed-stereotyped either.
4. What was your "dream horse" growing up?
Big bay hunter-type, maybe dabble in jumpers some, gelding.  Pretty much Simon.  That's just how it was done.  It probably helped that there was a particular bay gelding that stole my heart despite having the most discombobulated canter I can remember riding.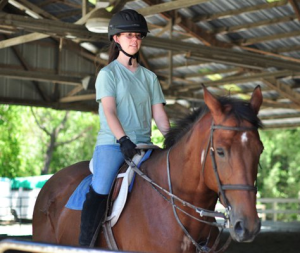 5. What kind of bit(s) do you use and why?
Myler 32-3 – the triple barrel mouthpiece. I have a full cheek snaffle on one bridle (because I found it for free!) and a combination bit on another (because I wanted to give it a try). There's a double-jointed full cheek snaffle on her dressage bridle.
Mylers are nice expensive bits and I figured the free one was worth a try; she didn't hate it, but really I have an awfully hard time telling if she cares about any bits. I do better riding in something where I can have contact, so we spend most of our time in the full-cheek.  When she's really pissed at me and wants to throw a fit it matters not at all what bit I have on. However, when she's bolting/spooking from fear, she has pretty reliably hit the bit and stopped. This makes her a horse I'm not willing to put in a hackamore full-time, though I will sometimes hack around the barn in a halter because I'm lazy.
6. Helmets or no helmets?
Helmets.
7. Favorite horse color?
I love dark grays.  I wish they would stay that way.  I rode an Appaloosa mare for a while who had the best dark gray coat, and kept it! (Did I mention my thing for difficult mares?!)
I love my blonde chestnut pony too, but that felt too easy: I think I'd fall in love with the color of my current horse, whatever color that is.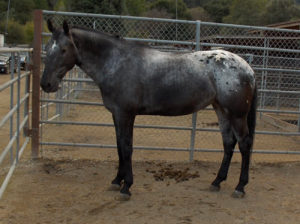 8. Least favorite horse color?
Bay roan.  I've met two now and while I didn't know either very well, just cannot get myself to like the color.  Which is not to say I won't change my mind in the future, but currently that's the only one I can think of that I have a moderately strong negative reaction to.
9. Dressage or Jumping?
Both.  If I had to pick, though, I think with Fetti I'd jump: we both get bored going in unmotivated circles, and even adding poles to trot over makes life more interesting.
10. How many years have you been riding?
Fourteen years since I started lessons.
11. Spurs/whip or no spurs/whip?
Whip, no spurs.  I'm not solid enough with my leg for spurs, though I have ridden with them regularly in the past, and they don't make enough difference with 'Fetti for me to bother.  A nice dressage whip lets me keep both hands on the reins while reinforcing leg.  I don't always need it, but when I do, I really need it.
12. Your first fall?
My first horse show.  I was riding a cranky and rather feisty mare who was supposed to have been longed earlier in the day by the grooms… but we (and her owner, one of the trainers) later learned this never happened.  Oops!  Rather like Fetti, she politely held it together for the two walk/trot classes we did, then bolted in the walk/trot/canter class. I wasn't balanced enough to ride it out and fell off.  Same thing in the second WTC class, except that I narrowly missed hitting the fence with my head.  These were pretty crowded classes in a small indoor arena, fairly late in the day. I was put on a different horse for my fifth and final class.
My parents were a little traumatized.  I was totally hooked.  That mare remained one of my favorites until she was retired to pasture.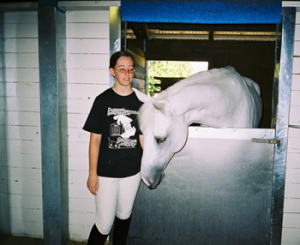 13. When was the last time you rode and what did you do?
Yesterday we trotted briskly out on our short-loop, trotted back to the first 'road' section, then walked sedately for the next mile and a half with occasional interspersed bits of jog when she had her brain.  I was very pleased.  Also, there were deer on the way out and the way back and she was very good about alerting me!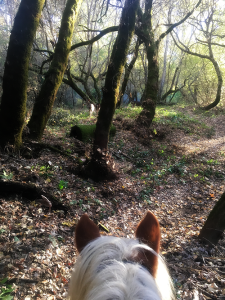 14. Most expensive piece of tack you own?
Definitely my Eurolight.  Eep.
15. How old were you when you started riding?
Twelve when I started lessons.
16. Leather or Nylon halters?
Nylon, between the two.  Usually rope, though.  Haflingers aren't known for being sensitive. Nylon halters are more decorative than functional, and I don't have spare funds to throw at a good leather halter.
17. Leather or Synthetic saddles?
Whatever fits.  I'd lean towards synthetic just for ease of upkeep, but really, whatever fits.  I have one of each.
18. What "grip" of reins do you like?
Dressage: web reins with rein stops, specifically the ones from Horze.  I may have mentioned once that I bought a bridle since it wasn't that much more expensive than just buying the reins.
Endurance: non-grippy! straight beta with no grip, or the web reins have sometimes made an appearance (I think one or both days at Wild West this year).
Bareback: rope reins with a rommel. I still need to reattach the rommel from when she stepped on it and broke the attachment 🙁
Key theme is minimal grip since I do periodically slip the reins to her when things happen.
19. English or Western?
I am an English rider at heart.
20. How many horses do you currently own/lease?
One, though I sometimes get to play with the other two in her herd.
21. Do you board your horse? Self-care/full board? Home board?
Self-care board, where I do nearly everything myself but pay someone to clean and feed as-needed the three days a week I can't make it out there in daylight.
22. Have you ever had to put down a horse that you loved?
I have never had to make the decision, but I wrote about it briefly when one of the Haffies was put down in March.  He wasn't mine, but he was part of my "herd" at the barn, and he definitely has a special place in my heart.
23. How many saddlepads do you have?
Two Woolbacks, one Coolback, one pink tie-dye, one black, one white, one pink, one pink I need to sell, one (two?) that have been repurposed as saddle rack cushions. That comes to what, eight functional pads? Only seven live in the tack room though.
24. Slant-load trailer or straight haul?
I would opt for a slant-load, but Fetti loads fairly reliably in either.  I would, in truth, be happy to have any safe trailer and truck.
25. Why do you ride?
It keeps me sane. It gives me a social life and people to relate to. It gives me somewhere to set reasonable, attainable goals. It's an escape from reality, but also somewhere I have to leave reality behind and leave those emotions on the ground.
I ride because it makes me a better person.