I chatted with another local endurance rider last week.  She asked how the pony was doing and if we had any plans for the winter.  Mmm.  Nope.  We're done for the season.
The arena is already intermittently a pond or three, with passable-to-mucky footing.  I don't have enough daylight hours to get her out for good rides four days a week.  Right now I'm lucky to get one Serious Ride in weekly, one lunge or round pen session, and two moseying rides. Once the dam goes up we'll be doing even less, with more round pen/arena/barn walks and less trail work since we'll have to jog down the highway into the park.  That could be any day now and I know it.  Without a trailer, I really am pretty well stuck in the winter.  It's not new, it's not a huge deal, but… we don't start up conditioning again until the dam goes down in (hopefully) March or so.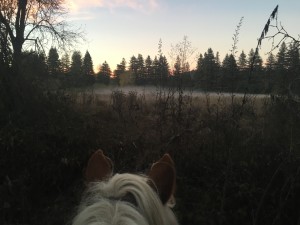 So we taper, cross fingers, and enjoy the river-crossing rides while it lasts.
Even so.  Cold breezes, fog in the meadow, empty parks, rides with good friends. Life is good.