Blogger Secret Santa Gift
Not riding, and lots of rain, and getting to the barn pretty reliably in the dark (even when I leave work and it's daylight!), does not add up to positive mental energy for me.  Throw in some extra stress and chaos at work, a bunch of extra stressors in my personal life this month, and it's no wonder I haven't been blogging much.  I'm barely keeping myself afloat.
Tuesday night I left work in the daylight, arrived at the barn in full darkness, worked Fetti in a few circles anyway, filled the bale bag, cleaned, and went home.  Moderately depressing since it hadn't even rained and in theory that was supposed to be one of my riding days for the week.  But then:  a BOX!
Britt at House on a Hill has impeccable timing and amazing taste.
One giant bag of giant treats for Confetti!  I think I could feed these with my winter gloves on, which is brilliant since we use them for standing-still-while-mounting.  Most of my current treats are small to moderate; these are BIG!  And carrot-flavored: something new!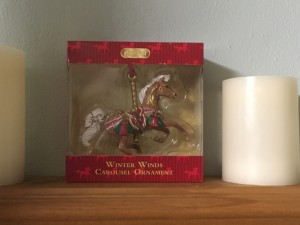 Next: a palomino carousel ornament.  It's a really terrible picture because I found a home for it on the mantle immediately upon seeing it, and apparently the lighting for photos isn't very good there.  Oops?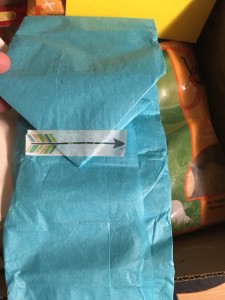 Based on the card, I suspected what this was, and then I saw the logo and practically bounced while very, very carefully not ripping the wrapping paper.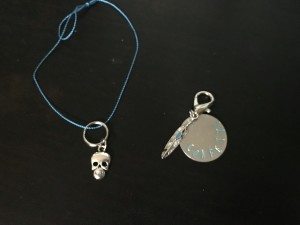 And yes – it was!!!  From Beka's Straight Shot Metal Smashing shop,  A bridle charm with a feather and Confetti stamped on it, and a skull on a keychain!  She gives me wings, so this is incredibly perfect.
I almost took it out to the barn on Thursday, and then it occurred to me that I need to figure out which bridle for it to live on first, and maybe that should not be the halter-bridle that gets left on for muddy turnouts.  Hmmm.  Choices, choices…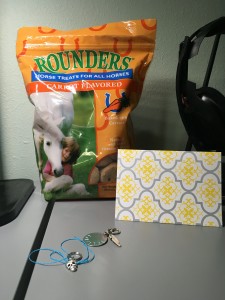 So for now, everything is hanging out on my desk, reminding me that life isn't completely terrible and people are still amazing.  Thank you so much, Britt!