The dam went up at the beginning of January.  Trees came down across our trail, too, so it almost didn't matter.  Not even our small trail ponies would fit through this.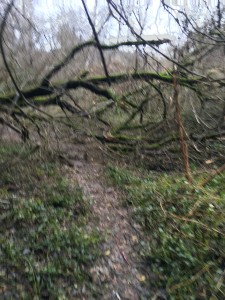 We burned out on around-barn rides faster than usual and went promptly to jogging down the highway.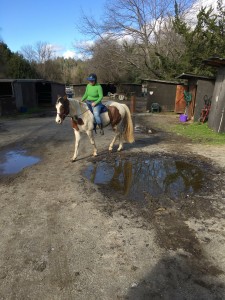 We've still managed a few rides with Funder around the barn, though!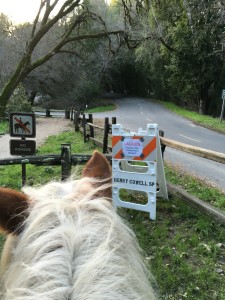 My Haflinger trail partner and I had planned on a ride, but it was super windy. We stayed home and walked in circles, then got bored with that and went out.
A year ago, we would never have gone out in this. Gusts complete with a warning sign. That's a first! We'd already made it down the highway so headed on in. Live dangerously and all that. Two of us bareback on the ponies. Ponies were good, riders got anxious and hiked most of the way home.
It's been more than two years now since my major winter fall. I haven't forgotten and it still affects my riding. Confetti is pretty out of shape right now. I'm sad about that. I'm not sad that I'm riding her bareback in the park and generally feeling good about it.
Maybe soon we'll pick the conditioning back up. I have a long, long moderate hill in mind that we've ridden only once or twice. If we can get there alone reliably, I may aim to walk/trot up that once or twice a month.  (Guessing off a map, I'm thinking it's 3-4 miles of near-constant climb.) That's the sort of thing that's really hard for her, and it should get her heart rate up nicely too! We'll see if that pans out or not.
We'll go back to our regular loop shortly: it appears dry enough we can safely trot the six miles. We've been missing that.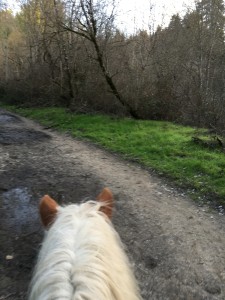 I did hook up the heart monitor to the bareback pad. I'm not crazy about full tack just yet, but I like knowing a baseline. She's recovering reasonably well from our tiny moseying rides. Not fast, but not terribly.
Incidentally, she is totally okay with full-size tour buses passing us three feet away on the highway. I braced for a spook, she dove for grass.  I had the heart monitor hooked up – so when we got into the park a minute or two later and I turned it on, I was pleasantly surprised to find that she was super-low.
Time change in two weeks.  Things will be better soon.