I'm so far behind that if I don't make some notes now, I'll never get current again.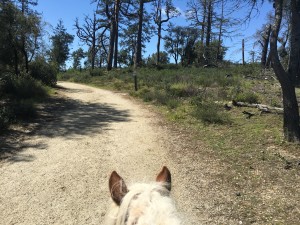 I'm still working on Fetti's hooves.  I have no idea if I blogged about that or not.  Thrush got ugly in January, NoThrush powder cleared it up better than anything else I tried.  It was impressive.  It's not entirely resolved yet, but it looks a heck of a lot better than it did.
Also, I'm getting more aggressive about trimming.  I'd like to think it's helping.  Only time will tell?  The boots still mostly fit, though, so that's something.  It's becoming clear I need a lower hoof stand for the (short) pony so that is moving high up on the priority list.  Or we just need to work on keeping her hoof on the stand because she's learned she can be a brat about it.  I'm not sure which.
The dam is still up.  We're riding anyway.  This is going to be the oddest conditioning year we've done yet.  I feel like she's out of shape.  Alternatively, we're just working harder in the handful of rides we've managed.
2b.  The dam is no longer up, now that I've taken so long to post this, but it's not yet crossable.  We tried and sunk.  Someday there will be a non-Haflinger guinea pig to cross the river first.
Migraines and low-grade headaches have been making my life extra-difficult since December, but I'm now at a full week without a real migraine and that's really awesome.  I have a small pile of things in drafts that I start working on during my good days.  I lose track of them on the other days.  They may never get done.
Round pen vs turnout vs riding: mostly round pen still. I suspect she's not working enough.  Goal is to start more regular turnouts.. if I can get in the arena when it's not a complete muddy mess.. in hopes of that making a difference.
Head tossing.  She's always done this occasionally as a snarky mare thing, a warning of attitude and things to come.  Lately it's become more common and for no apparent reason.  Bugs, maybe?  Tried fly mask.  No difference.  She's doing it both in front and behind, while I'm riding and while I'm walking her under saddle on trail.  It doesn't feel like there's any attitude associated with it (but I could be wrong).
I have not tried my dressage saddle to rule out saddle issues.  I've been riding almost exclusively bareback since November, and I only got this endurance saddle in mid-October.
Super-short-summary-version: chiropractor seems to have resolved this and I hope to have a full post on this sometime.
Bucking. One-two bucks under saddle on multiple rides lately.  I wasn't holding her back, at least that I knew of, and that's usually what has triggered it in the past.
Month-end conclusion: I'm pissed off. She's not working enough and it's entirely my fault.  It is an attitude-buck, I'm not a good enough rider to deal with the behavior itself, so we did 22 miles in two days this weekend and by ride #4 she was back to her usual summer-Fetti, forward but not obnoxious, willing to go but not spooking at random stuff.  Now that I have daylight, 25 miles a week just moved WAY UP on my priority list.
Historically, the reaction to her bucking was to make her run and work really hard.  Which is exactly what she'd like to do when she bucks now!  I have no idea how to appropriately handle that one in-the-moment, so I yell at her and do my best to stick it and then bail off and de-escalate.  I'm in a bit over my head on this and I know it, unfortunately, but she's stuck with me.  I'll take suggestions, y'all.
Bonus frustration: Fetti has lovely new white marks on her back this year, likely from the flocking I had done on the dressage saddle early in the season that did not work out very well for us. We did the NATRC ride and two days of Wild West (plus 3-4 months of conditioning) before getting it reflocked towards the end of the summer.  We would probably have been better off staying in the saddle that put me in an unbalanced seat rather than the one I thought I had fitted to the horse.  Argh!!!