A couple times a year it dawns on me that I have a lovely, well-trained horse who ought to be able to do moderately advanced things if I only ask her correctly.
Last month, I tried riding bareback and "bridleless" – using a neck rope while still keeping the halter & reins attached.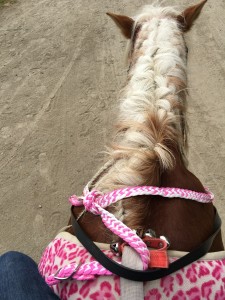 Fetti listened very politely to all my cues and proceeded to very politely ignore all the ones that didn't work for her, such as 'turn left' or 'quit blowing through that shoulder'.  That ride concluded with a short ride in the round pen where we failed to stay on the rail for any substantial length of time – using the halter & reins, not the neck rope! – and I finally called it quits once we got a semi-polite trot circle mostly on the rail once in each direction.
OK.  Nicely trained pony has apparently been broken by amateur rider. 🙁
This month, on a low-key day at the barn, I pulled out the dressage bridle & saddle and off we went to the arena to revisit the topic.  I know that I am not a completely incompetent rider and we should be able to do at least really basic stuff in the arena without looking like complete drunken fools.
Fetti rewarded me with the absolute best canter we've had in probably over a year, and then replicated it a whole bunch of times just to make sure I knew it wasn't a fluke.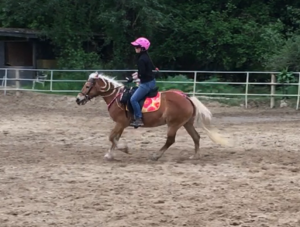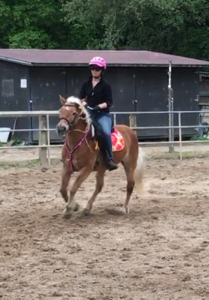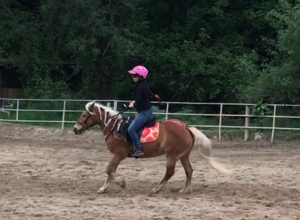 It wasn't all pretty – our upwards transitions are awful! – but the canter was there, it felt balanced, and she never threatened to leave.  I sense there may be more canter circles in our future as we try to make this a more normal thing.