Ride Planning with Anxiety, two weeks out
With great gratitude, have friend schedule regular trimmer to come out this week.  One less phone call for me, and one less appointment I need to be at.
While tacking up for conditioning ride, swing saddle up on horse per usual. Bang stirrup on elbow.  Wince.  Get home later that night to find that it actually did bruise.
Ride briskly out and briskly halfway back.  Hear train.  Bail.  Practice de-escalating pony anxiety on the ground.  Eventual SUCCESS!  Mount back up, trot sedately home.  Opt out of second ride: after successful de-escalation in ride #1, ride #2 cannot get any better.
*Unfortunate side effect – no long ride day over the weekend.  Oops.  High Energy Endurance Pony did get a round pen session plus a turnout (with galloping!) before and after the ride the day prior, though, which almost counts.
Order grass/alfalfa hay for better ridecamp eating.
Assess spare boot inventory.  Move entire pile into the car.  This is actually great progress, normally I don't do this until the weekend prior at best, and a lot of these pieces have actually been sitting since last June at Wild West.
Order relevant pieces to complete spares, plus enough parts to replace cables/set screws on front boots prior to the next ride they're used in.  It might not be this one, but I should have the parts on hand.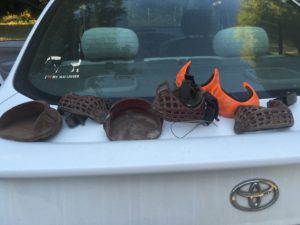 End goal will be one near-new front spare (Viper shell, Ren cap: already together, not pictured), one near-trashed front spare (Ren shell, Ren cap), one mediocre hind spare (Ren shell, Viper?? cap).
Try giving Fetti a bucket of water with a few handfuls of rice bran.  End result: 3/4 of water went in the pony. 1/4 of water was enthusiastically splashed around in an attempt to get to the Good Stuff.  I'm not actually sure if I can call this a success or not.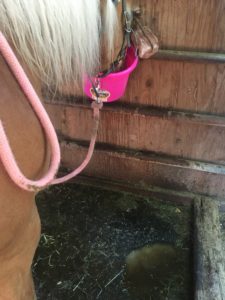 I called the other farrier and ended up texting briefly with him.  I've decided to glue Renegades.  Well, probably – last word on 'can he come out Thursday to glue boots' was that he'll check his schedule to see where he'll be that day.  So if he can't, well, booted it is.  Decisions made!