Right about this time last year, at Wild West, we had a spontaneous and very incomplete endurance blogger meetup at the vet check: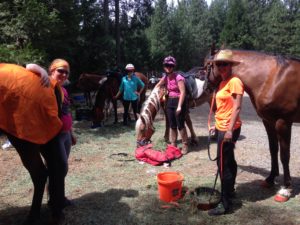 Boots and Saddles, Redheaded Endurance, me!, Trails (and Trials)
For my next ride – a 50! – I managed to semi-spontaneously convince Cyd and Bugsy to let us tag along on the trail the whole way.
Then in October at Quicksilver, we rode with Olivia and Nilla.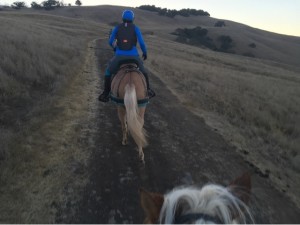 And, of course, I am lucky enough to get to see Funder, Dixie, and O on a regular basis!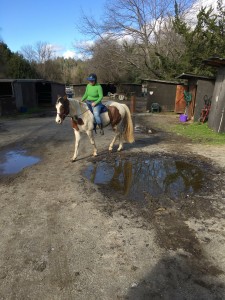 I am not known as a particularly social person, and have occasionally been told I don't make friends my own age very well.. so when Olivia invited me to a local-ish blogger meetup the day after the gymkhana, I thought that sounded like fun.  Socially awkward is fine as long as I have a topic to vaguely flail about.
It was a good-sized group. True to form I didn't manage to talk to everyone, and I'm pretty sure I only figured out who about half of everyone was at the time (namely: Olivia, L, Megan, and Kate).  That doesn't look too bad when I realize they were also the ones closest to me.  It felt like I was totally lost in the English world again, though!  But in a good way.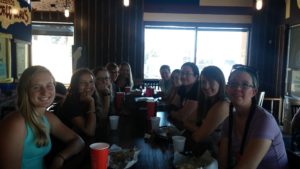 (I am shamelessly stealing the identification from other bloggers, because I still don't have everyone straight)
Kate – Incidents of Guidance
L – Viva Carlos
Kat – A Horse is a Horse
Lindsay – not a blogger (yet!) but has instagram
Karley – All In
Emily – Wilbur, Ellie and Emily
Nicole – Zen and the Art of Baby Horse Management
Olivia – DIY Horse Ownership
Megan – A Enter Spooking
Tacos, ice cream, good people.  Well worth the drive.
Then I drove home in the heat and curled up in front of a fan for an hour or two to cool off.  The migraine meds eventually kicked in. It occurred to me that my head was still hurting slightly in a non-typical place.  That really hadn't been part of the plan..