Good news! Pony's bloodwork is all normal per the vet.
Bad news: I thought she had fungus on her back and was out in the rain washing it off. Instead, it looks like it's almost certainly a saddle fit/rider balance fail result. Poor pony, I am SO sorry.
Good news: She's been ridden twice since Quicksilver, so her back is getting time to heal. I'll run the Woolback and/or bareback for a while until the hair grows in.  In hindsight, I might have been better served by doing the 50 in the Woolback like I did all last season.. but I had it fitted with a thin pad and I've been conditioning with both, so I cannot fault myself too hard. Riding balanced would almost certainly have made it a non-issue, but busted ankle plus thin pad makes for unhappy pony back.
Bad news: SO MUCH MUD. I have not been riding much lately.
Good news: Her breathing appeared to be somewhat better the last time I worked her in the round pen for twenty minutes. Maybe even back to normal?
Bad news: She's still NQR, leg undetermined. It's looking like another vet callout in the next week or two, and I figure we'll continue with light workouts (ground permitting) until then. If they're going to be out, might as well ask about her breathing too! Especially if I can replicate it. Chiropractic after her lameness is either resolved or noted as 'more arthritis, add more work'.
Good news: Look, a pretty stall sign that was stealthily gifted to me this week!! I will have to hang our TWO signs this weekend!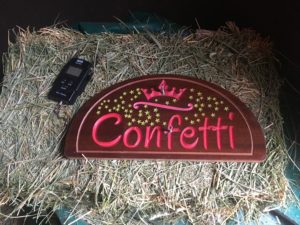 Thanks for all your support. Other things are still in flux, but they're out of my hands and I can't do anything but wait and cross my fingers right now.
EVEN BETTER NEWS: I took long enough to post this that I think she's not-really-lame now! I hope! And I got to ride yesterday in the dark!  Life feels fabulous right now.  Exclamation points entirely justified.  I hope this gets me to start riding – and posting – more often!