This is a very, very belated post.  Maddie, I am SO SO SO sorry.
Way, way, way back in December before I went on vacation, a package arrived.  With shinies!  Exciting stuff!  It was sunny out when the package came, but then I left, and then it started raining.  And then it was dark, and then it was dark and rainy, and then it was rainy.  If it wasn't rainy, it was muddy.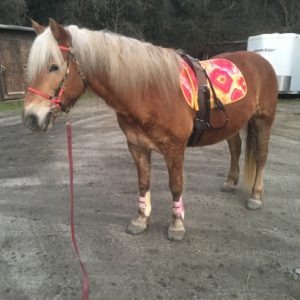 First off: yellow and pink open-front boots.  They're actually a set of four, but the hinds are a tighter fit and I could not convince myself to put them on for lunging in the mud.  But.  OMG, they are GORGEOUS.  They also fit perfectly in the category of "things I would never buy for myself" that perfectly complete our photo ops – exactly what you want from a Secret Santa gift!  <3  Shown here with the saddlepad that started it all, also in yellow and pink.
If we had skipped the awful forever-rain and I could have looked at the pony in sparkles and pink and yellow all winter, I would have been much happier, because I smile every time I look at that photo even now.
Next up, a bag of treats.  I meant to get a photo of these, but the next time I looked at them after my trip was the day we prepped for barn flooding the first time.  It is highly likely they have all been eaten by now.  Bad blogger, good pony-owner?
To utterly complete things – as if it wasn't enough already! – an addition to my post-ride pony-care suite: Bigeloil Liquid Topical Pain Relief Gel.  Once upon a time I didn't really use any of this.  Sturdy pony could take care of herself.  This was pre-Pentosan, and pre-Previcox, and now? Now I'll happily throw pain relief stuff at her!
I've resisted posting until everything got out in the open and used, and this was our day of sunshine where spring finally seemed possible and she worked enough for the gel to be useful.  One trail ride post coming up!