Catching up: trail changes, hock injections
I am firmly in "never going to properly catch up on posts" mode.  So, I'll summarize:
The rain stopped for a little bit.  Hooray!  Rejoice!  I went against everything I said I was going to do and our first ride out was with Fetti's sister.  We stuck mostly to a walk, especially since large sections of the trails looked very different.  Flooding does a number on the trails by the river, y'all.
I don't have a lot of "before" photos. This section was our nice, easy mile out before the hills kicked in. It hadn't really changed much in the last five or so years of riding it. There was one section we figured would probably collapse this year. The massive rains and flooding took out way more than one section.
Our first sign of massive trail rebuild: this photo is worth embiggening. The trail used to go straight. It now detours sharply left, then back to center.  There is a really big collapse where the trail used to be.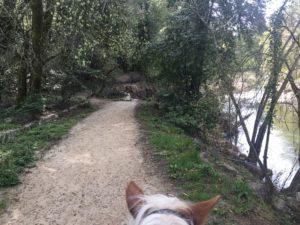 Hello, cliff!  The drop on the right side is new, although thankfully just a few feet – at least here.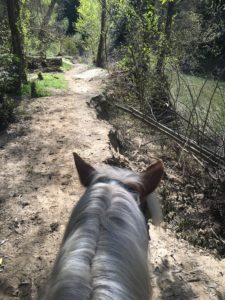 The biggest tell is that my muscle memory, after all these years on the same trails, keeps trying to go left into a pile of brush, or right around a tree where the trail isn't there anymore.  I am thankful to have a tolerant pony who ignores me when I am obviously very wrong.
We did our second ride alone on a windy day.  I was again impressed with Confetti's brain this year. Polite pony. No bucks, no bolt. minimal spook as justified at the new trail sections.  We moved briskly enough, and I was quite satisfied. Pony is, perhaps, not broken?
A ride or two later, I believe, we went out again with her sister. We opted to move out more briskly and see how things went. The footing was satisfactory, the ponies were well-behaved, and they handled the traffic beautifully.  Fetti sort of lost her feet on one of the early downhill steps, though.  It was disconcerting enough, sufficiently out of character for my surefooted go-everywhere pony, that I bailed and handwalked down the rest of them.
I put a call in to the vet the next week and scheduled hock injections.  I might be able to get her arthritis back under control myself once she's back in shape.. but I can't get her back in shape without going down a significant number of steps.. and I am not going to hand-walk down all the steps in the park every time we go down them.  I have a senior horse. I have tried Pentosan, she's already on Previcox, she is uncomfortable and it is time to step it up a level.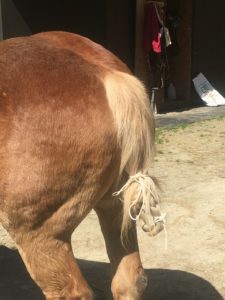 It was a delightful vet visit, as far as vet visits go. I braided and tied her extensive tail out of the way. The vet was initially astonished at her age (gold star, self! gold star, Fetti!) which is always nice to hear.  He injected both hocks – and I will edit this later with exactly what was in there, need to clarify with the vet to get that right.  The needle went in well and the joint fluid looked good. Per the vet, it was the best injections he'd done in at least a month.  He typically sees hock injections last around six months or so, sometimes up to a year. We're hoping I can get 6-8 months out of these, through October-December or so. I don't mind putting her back on Previcox through the winter when I can't get her out in the mud and darkness anyway. We can re-inject in the spring when the rains start to clear up.  Rinse and repeat as needed.
The vet sees no reason Confetti couldn't go back to to endurance this year.  I'm not convinced yet.  Then again, I don't think I'm ever convinced in April that my pony isn't forever broken and incapable of going more than 7 miles without wilting of exhaustion.  We have some work to do.