Let's wander away from the "Confetti is broken and we're never doing endurance again" theme I have going here.  That's not so much fun to write about, and probably not so much fun to read about.  Someday our river access will come back and I'll feel slightly better about trail rides, at least.  Right now part of our trail access looks full of trees. Sigh.
That's not the point, though. I took a lesson!  On 'Fetti!  And it was fabulous and wonderful and amazing!
A week or two or three ago, we worked in the arena (see: limited trail access without wandering down the highway).  I snagged a photographer.  Some of it was good; much of it was less-good.  I decided we could use a lesson.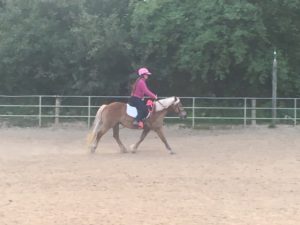 We did find our Real Moving Trot towards the end.  That was nice.
This was also the ride where I realized I was very, very crooked, and spent the next week semi-aggressively trying to fix my right IT band, which turned into overdoing it and making things worse.  Cannot recommend.
Following this, I set up a lesson with Kate.  Hooray!  This I can strongly recommend.  My last lesson with Kate was last fall, and my last lesson on Fetti with my trainer C was almost exactly a year ago and dealt with pony-nonsense on the trail.
Fetti decided that this was a "lazy trotting slowly" day in the arena.  Sigh.  We shuffled the whole time.  I borrowed my tolerant-photographer again, and for bonus!visitors we had Funder and O watching much of the lesson too.  Yay, an audience!
First off: circles.  Circles should be round and should not have flat sides.  My circles tend to have flat sides towards the gate and towards the bleachers.  See my four corners, bounce into them, bounce back off.
Next: pony will you go faster this is ridiculous OMG just canter and move out already.  Kate was much less bothered by her arena-mosey than I was.  I apparently spend 75% of the time in the arena feeling like her energy is running out her nose instead of coming from her hindquarters.
Secondly: quit nagging.  No really, quit nagging.  Note to self: try to spend an entire trail ride giving really, really clear releases and then not asking the rest of the time.
Shorten through the front of my torso, not necessarily leaning forwards, just shorter so as to engage my core without rounding my back.
Hold steady when asking for the canter.  Let her fuss into me.  I stay still and don't give into her games.  Incidentally, horse-people compliments are fabulous, and Funder absolutely wins this one by both complimenting how good we looked at the canter (eventually) and pointing out how terrible we looked initially: "yep, that looked like a horse that doesn't canter much".  Truth!
Shorter reins at the trot.  Work on a circle, careful not to pull with the inside rein, leave space on the inside.  Outside rein forward, inside leg pushing her out, and I can feel when we've got it.  It's hard, but she's honest.  Shorten reins rather than pulling back, and don't necessarily keep them 100% even – outside rein forward, forward, forward to encourage her to come into the bridle.
Lift into the canter.  Lift lift lift.  "Almost as if she's rearing every stride."  Forwards with seat, collect and lift with hands.  Somewhere over the last few months of not-doing-anything I figured out how to canter, I guess, and this felt really pretty magical and apparently looked equally awesome.  Look!  We can canter!
Super pleased.  What a good pony.
I have lesson photos, too, but WordPress and my phone and my connection are being difficult with eachother, so I'll throw those up in a separate post, apparently, with additional captions.