New saddle: (very belated) rounds 1-3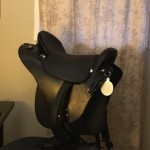 My new Eurolight finally arrived the Thursday before Quicksilver. I opened the box and left it sitting on a chair in my room, savoring the smell of new leather.
Normal, sane people give their horses a few days off after a ride. I took the saddle out to the barn on Sunday, put my nice ATG caged stirrups on, and went for a (very short) ride. Initial conclusion: saddle seems to fit horse well, stirrups are too short.
On Tuesday, I dropped the stirrups a hole. It was dusk before I got on (after telling several folks that I wouldn't be riding because of how late it was..) so I hopped on for a brisk mile. Conclusion: stirrups are too long.
On Thursday, I grumbled at the mounting screws and finally pulled them out. I ordered the short stirrup leathers and I'll need to punch additional holes for the screws (into the tree) to work – right now, getting the right stirrup length and having the leathers attached means that the end of the leather is hitting my foot, and I can't rotate the leathers further since there are no more holes. So, out with the screws and more rotation it is; I'll punch more holes next week or something. I added the sheepskin seat cover and shortened the stirrups back to my original height, then went out for the most miserable five miles in awful heat and humidity.
Conclusions: stirrups were still too long. I rode like a sack of potatoes. Fetti was very tolerant and put up with me having zero riding skills — I don't do heat and humidity well and it really got to me on this ride. Shortening the stirrups after I got back to the barn was a good choice and might have made life easier, but quite frankly I rode terribly and I'm not sure it would have mattered too much.
We did one Big Hill and one set of steps. The saddle shifted some, as expected. I will need to continue riding with the crupper. It did shift back nearly into position on the uphills, but there aren't always uphills after our downhills. The most I saw was a solid four fingers width of sweat behind the saddle, and that's no different than previous.
I still need to add my new girth and leather covers once they arrive.* Someday I will have the saddle properly kitted out and can just go for a ride again!
Bonus kitten-in-a-tree: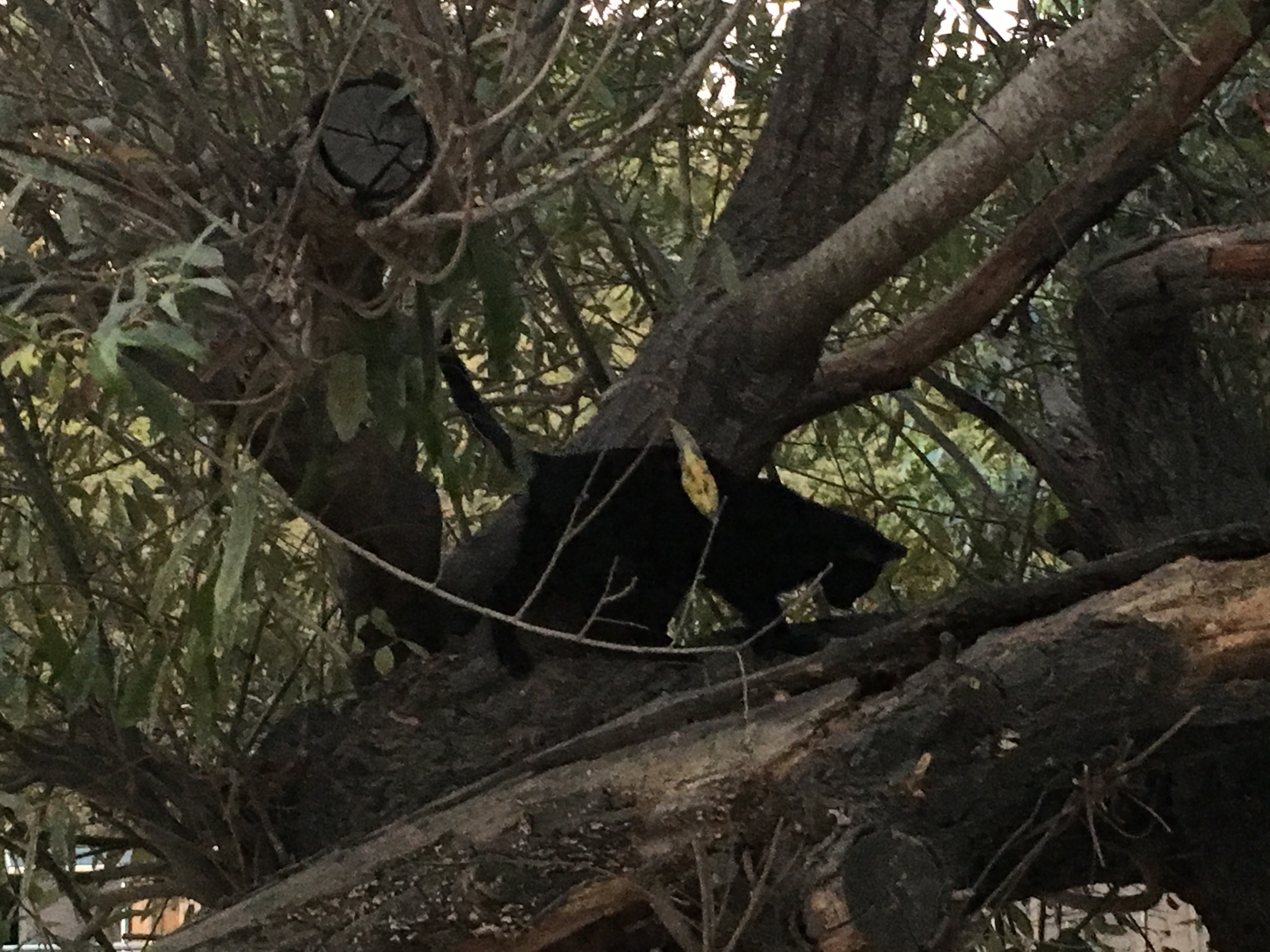 More tweaking of saddle required, but it's a good start.
*has been added since this post took so long to get up, look for an upcoming post with those!