February continues, and I continue to not ride an awful lot.  Sorry, mare!  Instead, we're doing things like turnouts every week or two (woohoo, a break in the rain, no pond!!)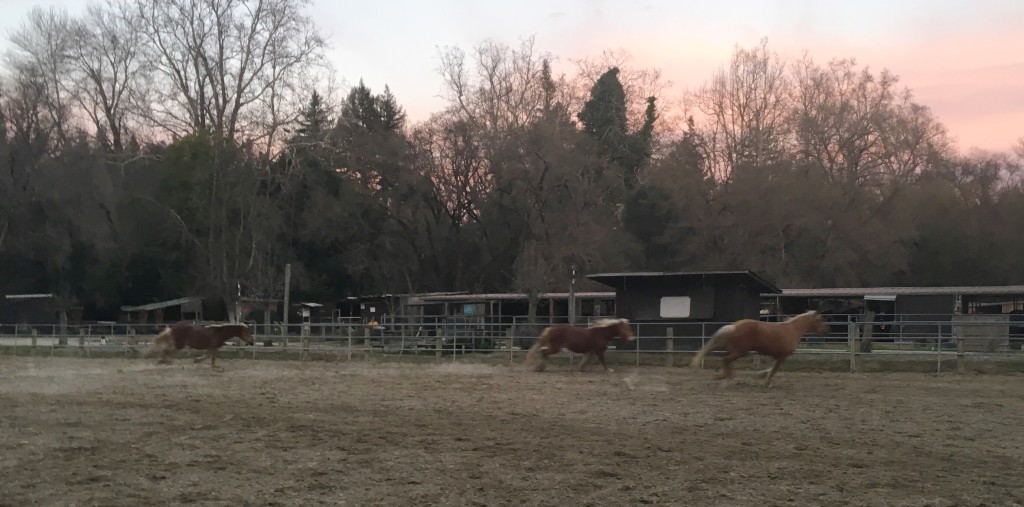 and more round pen sessions.
In my lesson recap in January, I noted that we didn't quite understand the 'reversing' part of the 'turn in and reverse'.  Turn in and: she spins to reverse, a full 360 and then some to go the opposite way.  Hmmmm, nope.  Turn in and: she doesn't really want to yield her hindquarters all the way (I'm probably cuing that inconsistently at liberty; she's reliably confused on what I'm asking for and gets it right only sometimes), then resists yielding shoulders.  How do we yield shoulders?!  I have no idea.
This may not make me any friends, and I'm certainly glad I didn't have a crowd of folks watching, but we seem to have finally figured it out.  I put her on a line. She had the same issues getting stuck facing inwards and not yielding her shoulders.  I cued politely (point, cluck, whip) in a way that I know has worked reliably.. she stayed stuck.  (Good!  Easier to work on problems when they occur in a manageable situation.)  At the lack of response, I finally took the lunge whip and swung it decisively towards her shoulders, asking her to move away from pressure.  Nothing.  OK, further escalation: the next few swings connected with her shoulder.  It wasn't instant, and I'm sure it wouldn't have won us any fans, but she finally got it.
Let me note here that I don't actually mind thwacking her on occasion.  Some horses put their head down for grass and you can politely ask them with a wiggle to pick their nose up, pretty please and thank you.  Confetti puts her head down for grass and gets a solid smack with the lead rope or lunge whip.  She politely ignores wiggles on the rope.  I don't advocate it for every horse.  I wouldn't go to that first.  For some horses that would be WAY too much.  When she is not listening, I sometimes do need to get that big.  Then we can go back to polite body language cues.

She still wasn't reliably getting it off the line, but here and there we had good moments.  I started some of our sessions working some turns on the line first, then setting her loose and trying them off, and that worked (somewhat) better.  Then we sort of quit schooling it for a few days, turned her out in the arena, and finally put her in the round pen with another Haffy.  I asked for them to reverse, and while the other Haffy turned outwards, Fetti very intentionally paused, turned inwards, and switched directions.  Well OK then.
We're still not 100%, but she has figured it out.
Our post-bath round pen session this week consisted of some breakthroughs in 'consistent gait'.  For whatever reason, I really got after her to keep cantering whenever she quit.  It's not that she's incapable of cantering a full circle in the round pen: she doesn't feel obligated to do so.  I pushed that issue this week.  Break to trot?  Back up to canter you go.  Smart pony took several minutes, but eventually figured it out and dutifully stayed at canter until given the verbal cue to drop back down to trot.  Switched directions, repeated the battle with slightly less fuss, and voila!  It looks like we know what we're doing!  Funny how it just takes consistency on my part to get a much better behaved pony.