There were two more events before lunch. I kept drinking (water and Gatorade), periodically nibbled at my electrolyte gels and my late breakfast/early lunch, and kept moving.  As long as I didn't sit still for too long, there wasn't time to get properly stiff.  We worked in the round pen before both of our next rides, and by ride #4 she felt appropriately sedate.  The heat was getting to her.  It sounds awful, but I was relieved.  We trotted politely in, dropped the golf ball in the cone at a halt (woo, we can halt and I can lean down fearlessly!), convinced her to finish making the turn around the cone, and trotted politely out.  I didn't feel out of control.  Events 2 and 3 she knew the game and she wanted to run – so we walked 90-95% of the time in the arena! – but for #4 she was content to listen to my cues.
Then there was a lunch break.  I sponged her off.  That's what I do at a break!  She was hot, it felt correct.  I wasn't going to pull tack and she was happy enough standing at the trailer.  It was an extra hour on top of the usual hour between events, and when we headed back to the round pen again, she was ready to go another 25 miles please.  Walk-trot-canter, canter canter canter, canter canter, big trot?  So we switched directions, and when she settled to big trot, I hopped on and we moved to the arena to trot off some of the energy.  I was still sitting on a Serious Endurance Horse with Serious Endurance Trot and not so much in the way of respectable brakes.  I mean, I had them, she just had way more energy than I was happy with and no appropriate outlet.  When the arena emptied out, I hopped back off to lunge with just the unclipped reins as a line.  Walk-trot.. acceptable if forwards.  Canter?  She dropped her shoulder and bolted.  I sighed, collected myself, calmly retrieved her and without any hint of emotion we tried again.  Same thing.  She hasn't pulled that trick in months, and we had successfully lunged w/t/c on the line in the arena earlier in the day.  Back to the round pen we went.
In hindsight, I had quit too early the first time.  I need to wait for 'pokey barely moving jogging trot' not 'settling into big trot' before calling it good.  I know this. This is not new.  What was I thinking?  This time, we kept going until she dropped to something resembling a lazy trot, and I decided we would walk the next event.  Going in, I asked her if she'd like to trot*; we did a teeny-tiny trot for a step and a half and went back to the walk.  Fine!  No problem!  Walked the whole course, all was well.  Break, reset, round pen again, and we sedately walked the final course of the day too – although we trotted our way out of the arena this time at my request.  Good pony.
*Thinking about it later, I suspect I was sending her mixed signals. Normally I go "would you like to trot?" and give verbal, rein, and leg asks if I'd actually like her to.  This time, I think I went "would you like to trot?" verbally, while my body went "OMG PLEASE DON'T!" and she very politely complied.  Can't complain.  I wasn't asking her to do so, only offering the option, so really – that was fine given the circumstances.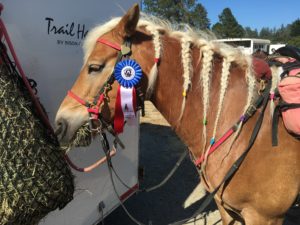 We placed sixth in our first event and that was the best we did, so we only got a participation ribbon.  Apparently they only give awards to fifth place?!  Hmph.  I have no objection to the lack of awards, only that I got moderately enthused about getting one for 6th, and then a little sad when I heard we wouldn't. Oh well!
We cleaned up camp, I sent my stuff home with L, and I hand-walked Fetti out on the trail home.  I fully expected her brain to be gone and that it would take ages to get it back since we were leaving her best friends and other horses.  Instead, she was a delightfully well behaved trail pony as soon as we got to the trail.  I walked probably a solid ten minutes because it took that long to find a log big enough to mount from. (My ground-mounting skills were a little lacking after the morning's antics!) I could have confidently ridden far, far sooner.  Fetti alternately walked and trotted on a loose rein, not rushing, yet not especially behind the leg.  Just.. good.  After a day of 'what am I riding and how is this going to go?!', it was really refreshing for both of us to be back at home on our trails just doing what we do, a competent pair, relaxed in partnership.
For extra bonus fun, there was apparently an ultramarathon that would be happening in the park the next day, so we had ribbons!  Ribbons are not terrifying, ribbons make us feel more at home.  Signs in the ground, however..
I laughed, snapped some photos, and got off to hike her down the hill past the signs, then got back on and we resumed our relaxed riding.  Oh, mare.  We made it home in one piece. We liked eachother again. I reassured other folks at the barn that I was (relatively) fine, and I had help putting her away because my barn friends are pretty awesome.  It was a good way to end the day, regaining confidence that Fetti and I can do things together and do them well and without fear.