First impressions post-injection
First ride post-injections was also our first time on the bigger 6-mile loop rather than our smaller 4-mile loop.  I didn't push for speed, but I did ask that she keep moving forwards at a reasonable pace.  No lazy moseying trot! This was our assessment-ride. How is she doing?
First set of steps. Last fall, after a bunch of work, I could push her most of the way to the top.  This time? A little pushing, and she plowed her way up and around the corner and kept going.  Feeling good!  Actually, feeling like we haven't taken any time off conditioning..
Not the next set of steps, but the next set of "test" steps: she usually quits halfway up at the roots and can't be bothered to keep going.  She's flown up it at a brisk canter once or twice following another horse, but that's about it.  This time?  I did ask, and I pushed a bit, but she trotted the entire way up.  I do not think I have ever, ever in seven years with this horse had her trot that far up.  Wow.
We cantered a bit of the next gradual uphill, just because we could. They felt controlled and balanced and generally wonderful. We are in April and I am fearlessly cantering my pony on the trails.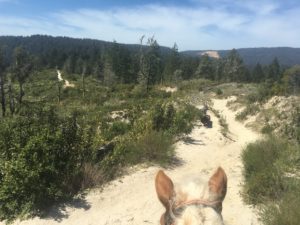 I pushed a little more on the next ride out with her sister.  Brisk working trot, please, make an effort, engage! Fetti was less enthusiastic here.  Perhaps it took more energy to keep up the working trot instead of the slightly lazier trot. Perhaps not having three days off beforehand made a significant difference. Perhaps she's back to being bored on the same trails again.  It was not a warm day, with the highs in the mid-60s if that.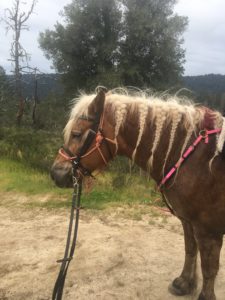 We put her sister in front for part of it. Why not, right? It's good practice for both of them. It was not a faster pace than the previous rides, we weren't flying or anything. Maybe we took a couple walk breaks fewer or shorter ones. But by midway up, 'Fetti was puffing more than usual.  No serious freight-train like she was last fall, but enough to be noticeable for me.  We pushed on.  I need to know if she's going to break under pressure.  She kept puffing, but stayed at that level.  Eventually we went to canter briskly up our particularly wide fire road behind her sister. Fetti had opinions about being behind. A few bucks resulted, a scuffle was had, and I stayed on; the experiment ended there and we galloped-cantered-trotted all the way to the top of the freaking fire road.  She is not in shape for that.  She was puffing afterwards.  That's fine – she is not really allowed to throw bucks at the start of that run, either.
Oi. Ponies.
Frankly, this leaves me lost and confused.  Is her breathing going to be fine when she's in front? Why does it go to shit when she's behind? Is this going to be a pattern? We've both led and followed at endurance rides in the past, why was Quicksilver suddenly different last year? Or is it just that she's hitting the 'working more' point this year where I get to start addressing breathing now?
More experimentation to follow, more conditioning to be done, and per usual I have no idea whether we'll make it to our planned ride this year.
P.S. – Good points: drinking from puddles! Peeing on trail kinda on cue! Boots staying on! These things make me happy.